Why Retreats?
Retreats on Ruach Ranch (RR) are exclusive. It is a place of extraordinary beauty and ultimate seclusion. When you and your family, friends, company or organization wants to have gratifying and upleveling experiences, come to RR, a horse assisted personal coaching ranch.
What is a horse assisted personal coaching ranch?
It is the brainchild of Leslie who envisioned a ranch where her horse coaching partners would not receive the gifts of The EQUUS Way of Being (Click here, to learn more about The EQUUS Way). They also benefit from the lessons of Herd Dynamics, a non predatory way of being.
Horses are the masters of the subtle and the transcendent worlds. Here on RR we are fortunate to have five.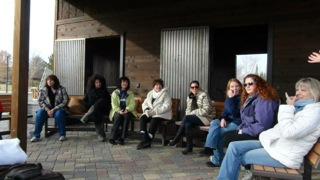 If you and your team, co-worker or group seeks more satisfactory and positive dynamics between all the participants, retreats on Ruach Ranch are optimal.
Leslie, creates mind expanding fun and life changing experiences with her gentle and experienced horse coaches.